A while ago, we started sending auto birthday wishes SMS to your patients as a gesture to let your patients know that you truly care about them. Today, we're taking an extra step and allowing you to easily let your patients show you truly care about them even if it's their first visit or tenth visit.
Send Customized SMS
Now you can send customized SMS to your patients whenever you want. Wish them "Happy Diwali!" or "Happy Pongal!". Or tell them about the upcoming dental check up camp. Send to one patient or many patients at once. Possibilities are endless! Send these customized SMS from your homepage, patients page (accessible from clicking Patients on top), or patient details page. Click on "Send SMS" to start sending messages.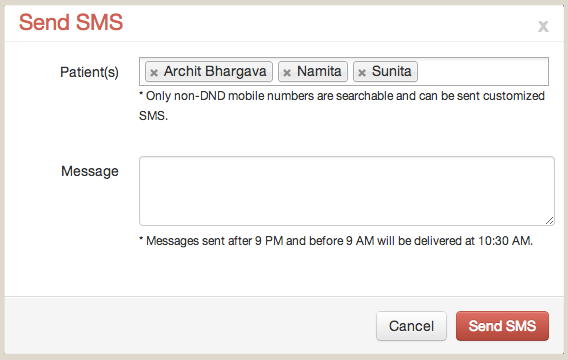 Note that these customized messages will only be sent to mobile numbers that are not registered with DND registry as per TRAI guidelines. You'll see

for numbers not in DND registry, and

for numbers in DND registry before every patient's name on the site.
Search Patients
You could search patients by name and mobile number from the top search box. However, with the ability to send customized SMS, we're today launching ability to search patients on a number of other parameters such as last visit date, and outstanding amount. Access the new search by clicking "Patients" from top of the homepage. Use the powerful search capability with customized SMS to send custom messages to patients who say, visited more than a month ago!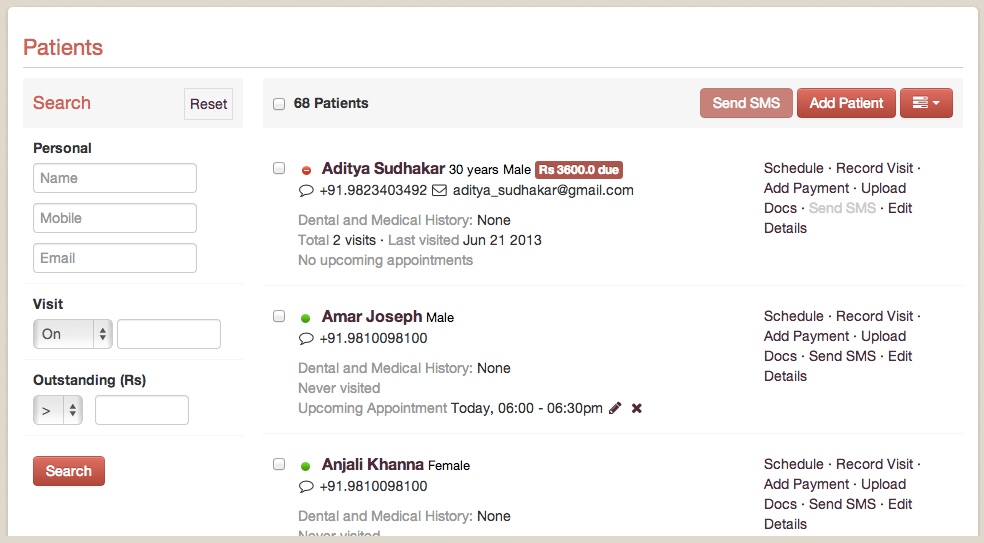 Send Welcome SMS
Wouldn't it be nice if you can greet your patients when they visit your clinic for the first time? Simply check the checkhox "Send Welcome SMS" while adding a patient or recording a visit. Note that all system generated messages are delivered to all of your patients since these messages are pre-approved.
As always, many thanks to those of you who've taken the time to send us feedback. We're listening and working every day to make Lybrate better.