In spite of being the global leader in IT, there is an obscurity in India over how online practice can be applied to complement the real practice and income. The ambiguity has its roots in the belief that personal touch in healthcare delivery is indispensable. This is true, but only to a certain extent.
Lybrate, the fastest growing interaction network of doctors and patients, has engineered a solution well suited to Indian healthcare scenario. We leveraged the craze about Facebook and WhatsApp and made online consulting as easy as updating your Facebook Status or chatting on WhatsApp. Not just that, we took online practicing a step ahead by tweaking easy payment options for patients.
No one can deny the importance of personal visits in the matters of healthcare, and there's no substitute of that. But there are some other basic chores, such as checking reports, follow ups, diet plans, etc that take a toll on your and the patient's time and energy. This becomes even more gruesome when the patient lives out of station and has to come on time just to get the reports checked.
Wouldn't it be great if such patients could get the necessary advice right at their home without you requiring to compromise on your consultation charges. This is what we have attempted to solve.
Let us take you through the magical set of features that can empower you to reach out to patients you can't reach physically:
Ask a Question
As simple as it may sound, the feature mirrors the part of the real consultation when the patient tells about his troubles to the doctor. The feature is divided into two sections for the ease of patients. These are:
Ask an Open Question
Here the patient can ask a question open to all the doctors of the required specialty. Such questions are usually general in nature where patient seek info about which doctor to go, or the seriousness of his condition.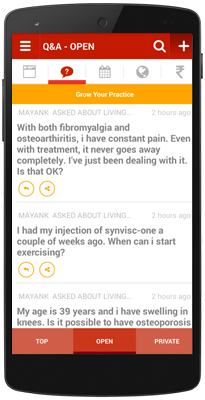 The more you answer such questions, the higher is your chances to feature on top of our search results. Answering open question will further enhance your credibility globally. Thousands of patients coming to Lybrate's platform could see your answer and reach out to you for their treatment.
Ask a Private Question
This is where a patient can have a one-on-one consultation with you. With the user interface as simple as your WhatsApp screen, it's the exact online emulation of the real-time consultation you do in your clinic. The patient can ask questions about his condition and you can answer those in a more personal way.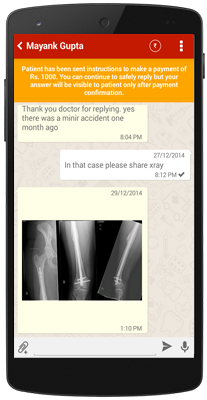 The best part of this feature is that you have total control over such chat. You can decide when your answer should be paid, and when it's free. Once the patient agrees to pay, we'll ask for your bank details where you wish the money to be credited. You answer only after you have the consultation fee.
The payment mode has been kept extremely simple to let patients do easy transactions. They can pay through the mobile app as well as from their laptop or desktop. So there's multiplatform compatibility for a seamless interaction between you and your patients.
In addition to getting new patients, you can also bring your existing patients on this platform for an effortless and time-saving routine consultations. They can join the platform without much hassles and start exploring its powerful features.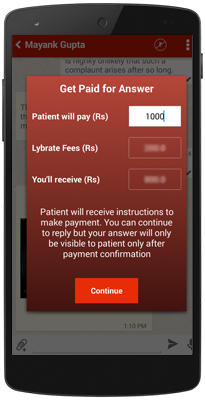 Now you can practice wherever you are if you have your smartphone with you. This allows you to make the most of your time, grow your practice, and still have ample time for your family.
In addition to that, you can also stay in touch with your patients and even reach out to new ones by constantly posting health-related stuff that matters. Check out details of our last release, dubbed
Healers
, an interacting platform for Doctors and Patients where you can share your knowledge and wisdom to help people stay healthy and fit.
If you are not already using Lybrate, simply
create an account
and start using Lybrate. We offer
FREE 30 Day Trial
(no strings attached!) and also
can import ALL of your data
from any other software or Excel/CSV files. It's time to switch to better things in life!
We're always working to make Lybrate better for you. As always, many thanks to those of you who've taken the time to send us feedback.