Lybrate is great for managing your clinic. Every day, thousands of doctors use Lybrate to increase their efficiency and increase patient satisfaction. Today we're excited to announce features that will help you take more control and get more out of Lybrate.
Improved Daily Appointment Summary SMS
The
Daily Appointment Summary SMS
hits your mobile at the start of each day. Now you can choose to include appointment notes as well in the SMS. Need to quickly dial the patient and don't have access to internet? No problem, simply choose to include patient's mobile number as well. Need to send the daily appointment summary SMS to your assistant as well? Simply enter the additional mobile number. Go to
Settings
and check the options under
SMS
section for
Daily Appointment Summary
.

Email Invoice
We recently launched
Unlimited Emails
a week ago. Today, we're announcing the ability to email invoice as well. Simply check the checkbox
Email Bill
while recording a visit.

You can also email invoice to patient by clicking

next to each individual visit on patient details page.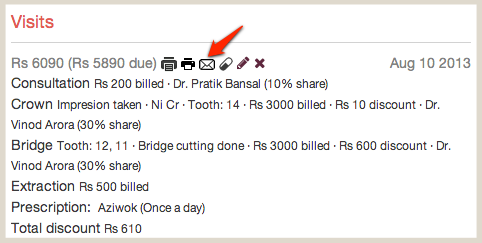 Emails to patient will include your
customized header
.
As always, many thanks to those of you who've taken the time to send us feedback. We're listening and working every day to make Lybrate better.