Lybrate is best at helping doctors deliver better patient care by building a
personal connection
with patients. Today, we're proud to release features that help managing patients a lot easier.
Customize Patient ID
Many of you were maintaining patient IDs offline before making the switch to Lybrate. Now you'll be able to customize the patient ID in order to match it with your records. Simply click on
Edit Patient
to customize the patient ID or customize your own patient ID while
adding a new patient
. If you don't want to customize, you can simply leave it and we'll generate the patient ID on our own.
If you already have many patients in your Lybrate account, simply email us at
hello@lybrate.com
and we'll bulk upload the patient IDs for you.
And if you're still using any other software, we can easily import all of your existing data too!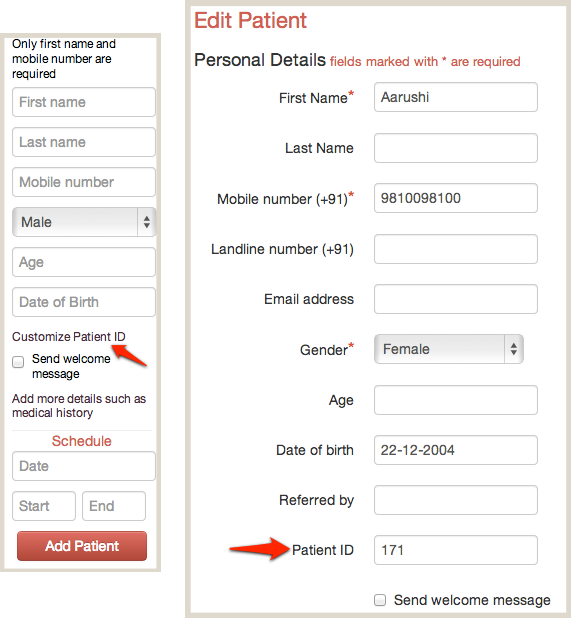 Welcome message
A few months ago we released the ability to greet your patients by sending them a
welcome message.
You could send your patients a welcome message while adding a patient or while recording their first visit. Now even if you or your assistant forgot to send a welcome message, you can simply send a welcome message from
Patient Details
page or from all patients page.
Missed appointment message
A while ago we announced the ability to send a
missed appointment SMS
to your patients if they missed an appointment. You could do so by going to
Calendar
and by clicking on any past appointment. However, at times you want to send a missed appointment message to patients whom you had forgot to create an appointment at the first place! Simply go to
Patient Details
page and click on
More
to send missed appointment message.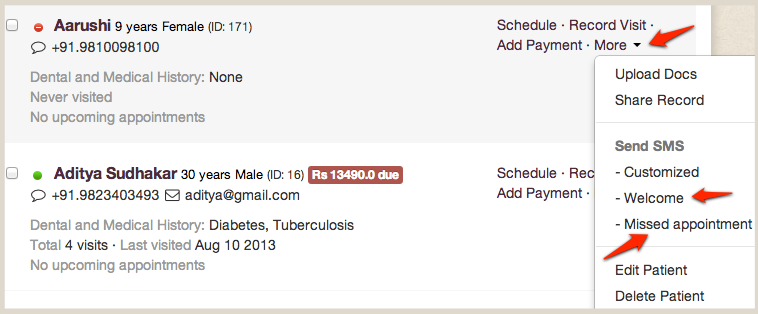 Delete Patient
A few months ago we announced the ability to
modify and delete visits
. Now you can simply delete a patient with a single click. Simply head to either
Patient Details
page or
All Patients
and click on
More
to find the option to delete a patient.
As always, many thanks to those of you who've taken the time to send us feedback. We're listening and working every day to make Lybrate better.